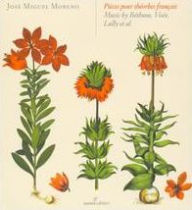 The angélique was a 17th century type of theorbo, probably developed in Paris, featuring sixteen or seventeen strings. Like other theorbos, the angélique divided its strings into two sets. One set was tied to pegs over the neck and could be stopped by the left hand. The other set was tied to an extension away from the neck and could only be open plucked like the strings of a harp. Rather than being tuned in the Renaissance convention of fourths or the Baroque convention of thirds, the strings of the angélique were tuned in diatonic seconds.
This CD features theorbo virtuoso Jose Miguel Moreno playing a set of pieces by 17th century French composer Michel de Béthune for angélique. No 17th century angéliques survive; our knowledge of their design is largely a matter of conjecture. The liner notes of this CD mention transcription but are not explicit about what instrument the angélique music is being transcribed for. Presumably Moreno is playing these pieces on the French theorbo, or théorbe de pièces, for which the other compositions on this CD were written. Those pieces include works by de Visee, Forqueray, Lully, and Marais.
The liner notes tell us that "one of the most outstanding characteristic of French music for plucked-string instruments is a certain noble serene gravity." I think that phrase nicely captures the feeling of this recording. The mood is pensive, the playing well articulated and soulful.
Recommended.
Pièces pour Théorbo Français: Music by Béthune, Visée, Lully et al.
by José Miguel Moreno
I had just stepped away from a simmering saucepan when our oldest popped into the kitchen and asked, "How far away is dinner?"
I squinted. "I'm guessing about eight feet."
Both our girls are expert at rolling their eyes.